Come explore North Salem Village!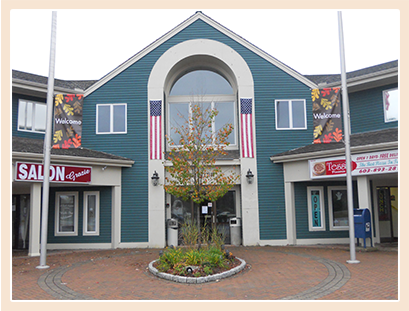 Whether you are visiting one of our many businesses or seeking to join our family of successful tenants, North Salem Village has so much to offer.

Enjoy the popular Tessi's Pizzeria or indulge at the award-winning Moo's Ice Cream. Benefit from the many well established businesses like the caring and nuturing Kids Krossroads daycare center, or have your dog pampered at WAG. Experience the compassionate services of Easter Seals. Need help with finances, look to one of many of financial service providers including Edward Jones, LPL Financial, State Farm Insurance, and S & H Account Associates. Counseling and therapy services from New England Pastoral Institute and Partners in Family Wellness. If you want a enjoy a luxurious ride, Linahan Limousine is at your service. Looking for a therapeutic massage, look no further than Massage By Patty and JJV Therapy. If you are looking to beautify yourself, you have 2 wonderful estheticians choices, Violet James Esthetic and Skyn Beauty Studio. To help from recoveries, there's an experienced acupuncturist, Cornerstone Acupuncture & Wellness. Yoga is big at the Village, offering 2 types of yoga to fortify your body, heat with the "hottest" yoga in the area called Unity Hot Yoga and there is regular yoga with Heart Exchange Yoga & Wellness. If you enjoy sewing or quilting come to the Sewing Diva Quity & Gift Shop, you will be very impressed.

Come and discover, it's always busy at North Salem Village!